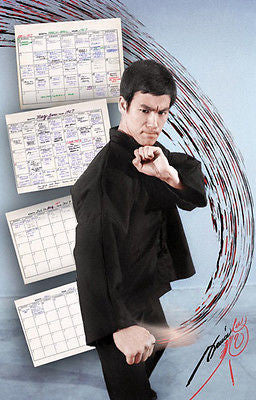 Bruce Lee "Workout Calendar" Poster
---
You can follow a portion of Bruce Lee's personal training methods and life.
Beautifully done, full size 24" x 36" poster of Bruce Lee, with a never before released pose.
Printed in high resolution so you can read, and follow if you wish, Bruce Lee's personal workout routine from March of 1967 through to August of 1967. 
The notes are in his personal handwriting, and include notations for other things like trips, etc.
A great addition for your wall and your collection.
Printed on very high quality, collector grade, 100 pound gloss paper.
This poster is not folded.  Shipped in a poster tube and shipping will vary by location.
---
Share this Product
---
More from this collection