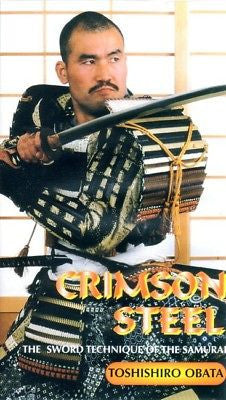 Crimson Steel - The Sword Technique of the Samurai DVD
---
Toshishiro Obata is a world renowned swordsman who has trained in multiple styles of swordsmanship as well as Aikido (Aikibujutsu) and various lesser practiced martial arts. 
He is the head and founder of the International Shinkendo Federation and currently teaches in his Little Tokyo Dojo in Los Angeles, California.
Obata Sensei came to the United States in 1980 after being given the title of Chief Instructor in North America of the Toyama Ryu Battodo system.  Crimson Steel is a complete introduction to the Toyama sword method, an art originally only taught to military officers in the Imperial Army of Japan.
This DVD provides historical information, demonstrations of cutting drills, as well as the basic techniques of the Toyama method.
A not-to-be missed experience by one of the world's greatest modern masters of the Japanese sword.
DVD Format, 44 Minutes
---
Share this Product
---
More from this collection