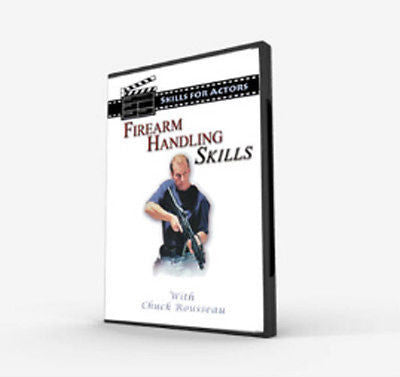 Firearm Handling Skills for Actors DVD
---
Essential skills on Weapon Safety, Handling & Firing Automatic Weapons, and more. This is what is needed to make your moves believable. You need to know how to handle a weapon safely and correctly to look believable and convince others that you know what you are doing.
Skills for Actors offers you the unique experience of learning the professional physical skills from the top instructors who have trained A-list actors in numerous films and TV shows. You will discover that it is one thing to learn a skill, quite another when you are learning from the best.
A few examples of what will be covered in this program are:


Weapon safety
Handling & Firing Automatic Weapons
Classic Weapon Gun Play
And much more
The techniques are thoroughly broken down and explained. Anyone can learn them!
Chuck Rousseau has been a film and television weapons wrangler for over 20 years.
He currently work with I.S.S., the largest weapons armory and prop house in the United States.

Approx. 35 minutes

---
Share this Product
---
More from this collection