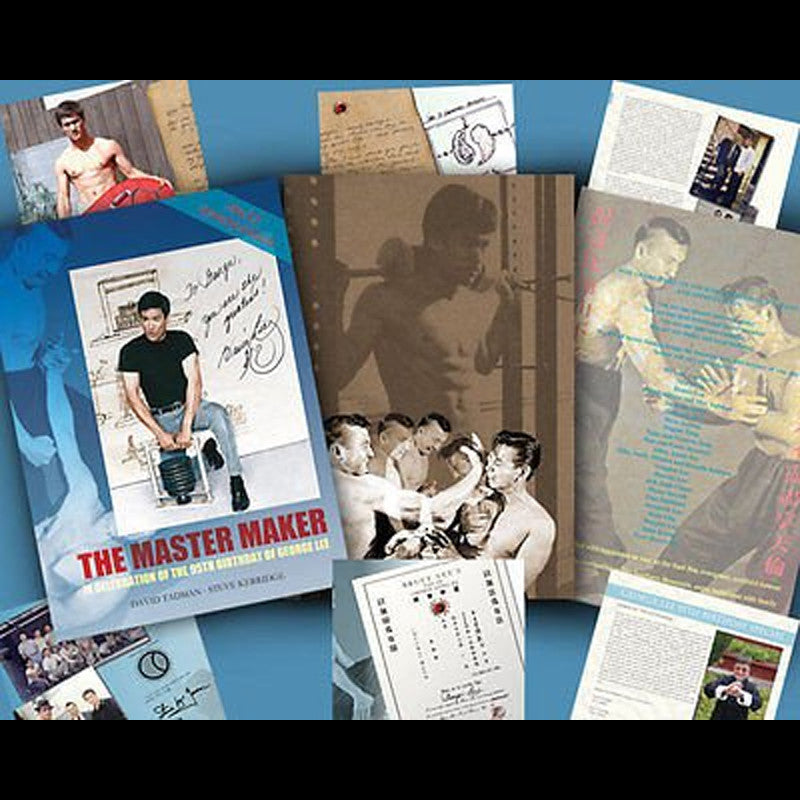 George Lee "The Master Maker" 95th Birthday, Bruce Lee Poster Magazine
---
George Lee 95th Birthday Special
George Lee:  "The Master Maker"
Beautifully done pictures.  Reminiscent of the 1970's Poster Magazines.  Inside are articles and pictures about George Lee and his intimate friendship with Bruce Lee.  As well as George relating how he came to know and develop his friendship with Bruce, personal notes from Bruce to George, pictures of articles made by George for Bruce, note from Steve McQueen, and James Coburn.  Magazine then folds out to a full size 24" x 34" poster of George Lee and Allen Joe working out.
***************************
     George Lee was more than a good friend of the legendary Bruce Lee; he was a revolutionist in his own right.  He spent countless hours that turned into days and sometimes months, creating Bruce's workout equipment.  For George's hard work, dedication and expertise, Bruce Lee called him "The Master Maker."  In addition to this accolade, George should also be known as the "The Master of Friendship," because his reliability, dependability and friendship were unparalleled. 
     To know George, is to understand that we are in the presence of someone very special, a loving friend, father and husband.  George has always put a high value on friendship and has opened his heart to many of us here in celebration.  His dedication to us all, mirrors his dedication to his close friend and Sifu, Bruce Lee. Even at 95 years of age, George is always there for all who know him.  His vigor, sharpness, and zest for life at the age of 95 are a lesson to us all.  George has taught us all to be loving and open to the ones around us and be accepting of the changes in life, be it good or bad.  But, most important, he has taught us staying young in heart and mind is all about letting your universe be open to you and sharing with others. Thus, to George Lee, a dedicated friend and a man who always truthfully expresses himself, this gift is with love from all of us to you.
Happy 95th Birthday George, we love you ...
David Tadman
(U.S. Editor)
Steve Kerridge
(U.K. Editor)
---
Share this Product
---
More from this collection