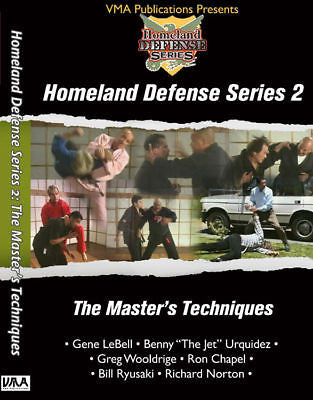 Master's Techniques - HD2 DVD
---
World events have heightened the awareness of the need for individuals to have a greater knowledge of defensive skills.  The Homeland Defense Series was created to teach both Law Enforcement and the general public how to successfully defend themselves against both armed and unarmed assailants.

Imagine learning more than 200 years of martial arts experience and over 100 years of law enforcement service from the experts themselves.  Never before has such a pantheon of  talent and experience been presented in one place.  Master level teachers in the disciplines of Karate, American Kenpo, Judo, Grappling, Aikido, Ju-Jitsu and many other forms are presented here.

Total running time 120 minutes

Defensive Tactics

Demonstrations of the most effective and easy to learn techniques ever developed. The skills shown here cover a variety of situations and allow both the lay-person and the experienced martial artist to follow along and learn from these step-by-step breakdowns.

Defensive Improvised Weapons

Demonstrations of some of the most incredible techniques of defending yourself with everyday household items: from pens, jackets, and belts - to keys, wallets, and magazines. You will see how to turn these everyday objects into weapons.

Psychology of Conflict

This is possibly the most important program on crisis and confrontation that you will ever view.  Conflict, like any other extreme stress situation, creates an environment and evolutionary reaction that is impossible to predict.  Discussed are fear, hesitation, the consequences of failure, and how to control the uncontrollable.

This series brings to you some of the greatest martial artists training and teaching today: Benny "The Jet" Urquidez,  Richard Norton,  Ron Chapel,  Bill Ryusaki,  Gene LeBell, and Gregg Wooldridge.  Hosted by Lorenzo Lamas.


---
Share this Product
---
More from this collection