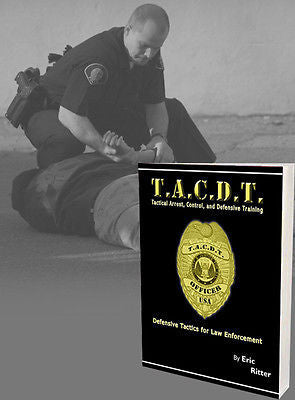 T.A.C.D.T. - Tactical Arrest, Control, and Defensive Training
---
T.A.C.D.T. - Tactical Arrest, Control, and Defensive Training
Defensive Tactics for Law Enforcement
"If you learn the driving principles first – everything else falls into place."
    Eric Ritter, in his book, Tactical, Arrest, and Control and Defensive Training (T.A.C.D.T.), answers the questions that every police department wrestles with.  How can we better train police officers  to save lives with less injuries and lawsuits?  How can we train our officers to be more effective without pain compliance techniques?  How  complicated and how many hours will we have to commit before we see results?   
    Ritter answers these questions and leads you to discover concepts and principles of "what to do" which will cut through the clutter of trying to memorize every possible "how to" grab and cuff scenario.  The reader will be led through a simple roadmap of principles on which all the techniques in this book are based.  Seldom done in departmental training or other books, these principles combine protocol Arrest and Control Procedures with Defensive Training to increase personal and public safety.
     This is basic Law Enforcement Arrest, Control, and Defense at its best with 20 guiding principles and over 300 pages of specific techniques.  All of the techniques have been pre-selected and adapted for law enforcement.  All have been field tested and will increase your ability to control your environment.  
You will learn:
1.  Tactics that prepare you for unforeseen situation.
2.  The Principles behind any particular technique which allow you to adjust/modify your response to any situation.  Increase control control without increasing pain.
3.  Simple, gross motor skills which can be quickly learned and retained longer.  (Complex techniques will take too long to learn for the average officer.)
4.  Focus on techniques that use balance and  leverage -- not pain compliance.
5.  Always end your shift by going home.  This means learning to control more with less force.  
    Eric Ritter developed his unique training program at the request of his department because of his unique background in martial arts, grappling, military, and field police background.  Ritter has instructed this TACDT program at a metropolitan police department, and is an expert witness on the use of force.
310 pages
---
Share this Product
---
More from this collection