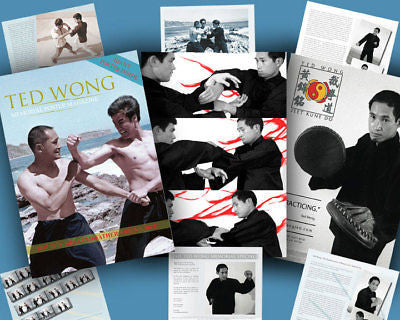 Ted Wong Memorial Poster Magazine (of Bruce Lee fame)
---
 Reminiscent of the 1960's poster magazines, just like the "Bruce Lee Forever" - The official Bruce Lee poster magazine.  Special Ted Wong edition.

Featuring never before published pictures and interview.

THE TED WONG MEMORIAL SPECIAL

     Ted Wong was a man of whom the martial art world held with great respect for his contributions.  In this poster magazine, we celebrate the memory of Ted Wong and the friendship he shared with Bruce Lee through the journey they called Jeet Kune Do.  So with great pride and in memory of Ted Wong we present this special memorial poster magazine that honors both Sifu and student.

With the passing of Ted Wong, we treasure all that he left behind to us.  In this special memorial issue are excerpts from a series of interviews that took place over a week in Santa Monica during the spring of 2009. Through the interviews, we discovered not only some valuable insights on Bruce Lee and Jeet Kune Do, but some deep reflection on what made Ted Wong the person he was.

Editors: David Tadman and Steve Kerridge
Contributing Sonsor: Ken Hao

Folds out into a full sized 33" by 23" poster. Very limited availability.

---- Please note that because of the complicated shipping rates and rules we might have overestimated the shipping costs.  Also, the combined shipping may come out to be too high.  In any case, if the actual shipping cost and insurance is significantly lower than what you are charged on eBay we will refund you the difference.  We have done this many, many times and our customers have been very happy.  We ship via US Post Office using Priority Mail.  Poster goes in a large envelope, which then goes in a box, which then is place inside a Priority Mail Medium sized box.  Shipping within the US is usually about $13.00 and about $35.00 International.  If you want cheaper shipping with no insurance just let me know and I will adjust it for you and refund the difference.
---
Share this Product
---
More from this collection