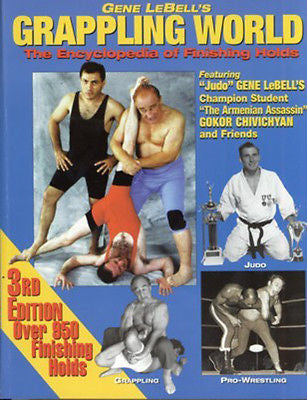 The Encyclopedia of Finishing Holds 3rd Edition
---
 Gene LeBell is one of the greatest submission grapplers to ever wear a pair of wrestling tights or judo gi. What he has forgotten about grappling would make anyone an expert. Judo Gene is known as a master hooker and shooter in professional wrestling - a hooker is a wrestler who specializes in finishing holds, while a shooter is a wrestler who grapples for real.

Judo Gene's book on submission grappling, "Gene LeBell's Grappling World - The Encyclopedia of Finishing Holds", should be considered THE book to read for those who want to know more about submission grappling.

This book has taken Judo Gene years to write, and it is his legacy to the world of grappling. It is a massive text on the art of finishing holds, and contains over 600 pages outlining in great detail more than 950 finishing holds. Among the 600-plus pages are chapters on grips and handles; catches and grabs; foot and leg controls; arm bars and shoulder locks; wristlocks and twists; straight leglocks; ankle bends and twists; chokes; and necklocks and cranks. Many of the techniques shown in the volume are old, never-before-seen pro-wrestling techniques. These holds were used by the Ancient Greek and Roman pankration grapplers. This book explains why Gene LeBell is known as "The man of 10,000 finishing holds."

Never in the long and storied history of grappling has such a technical treasure been available to the general public. It is doubtful there will ever be another grappling text containing so many unique and devastating finishing holds.

This is the best book ever written on the art of submission grappling. This manual is a must for all serious martial artists, self-defense students, and grapplers. "

---
Share this Product
---
More from this collection