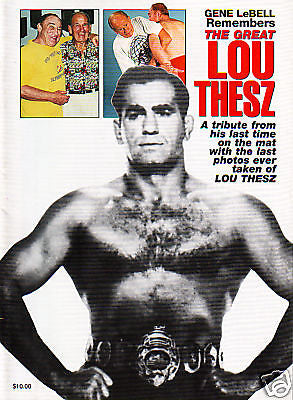 ---
 Gene LeBell remembers THE GREAT LOU THESZ - A Tribute from his last time on the mat with the last photos ever taken of Lou Thesz.  16 full color pages.

WOW! What a treat. Sometimes some great masters of an art go by and nothing gets recorded. This is an honorable and loving memoir from a great man to one of his best teachers.

Lou Thesz is considered by many to be the single greatest wrestling champion of all time. In this short treatise, Gene LeBell gives us an insiders look at a great man and a great fighter. And, to top it all off, we get to see the last time Lou Thesz was on the mat, with none other than Gene LeBell himself. You have detailed pictures and descriptions of awesome moves such as

DOWNWARD ARM CRANK,
STANDING DOWNWARD ARM CRANK VARIATION,
NECK CRANK AND CHOKE,
CALF-LOCK,
ANKLE LOCK & SIDEWAYS KNEE-LOCK,
HEADBUTT INTO AN INSIDE DOUBLE LEG TAKEDOWN,
FRONT FACELOCK VARIATION,
LEG RIDE & REVERSE HEAD CRANK,

If that were not enough, you have tons of full color photgraphs throughout every single page.

This is a piece of history you cannot afford to miss.
---
Share this Product
---
More from this collection